Published June 5, 2018
Read 4 mins
Eat Well, Lead Well – 2 book recommendations
Three conversations in two weeks have prompted me to write this article, recommending two books which I have found greatly inspiring in the pursuit of eating better to sustain energy, focus and productivity through a day in a busy leadership role.
All of the conversations were with future leaders who I am currently coaching. One was reflecting how much better she felt, and how much more effective she was in her role having focused on what she was eating. The other two were reflecting that they weren't eating well, relying on convenience foods or 'healthy' packaged snacks and that they were noticing a negative impact on both their own wellbeing and performance at work.
For the first, these recommendations were around continuing the focus, finding some more variety in recipes and perhaps taking her nutrition to the next level. For the other two, the referral was more on the basis of "here's some content to consider which might give you some ideas and inspiration to make some changes which could benefit both your health and performance at work'.
So, to the books themselves. Neither are specifically targeted at work-based performance, however I feel both are appropriate given they are targeted at sustaining more energy and higher performance.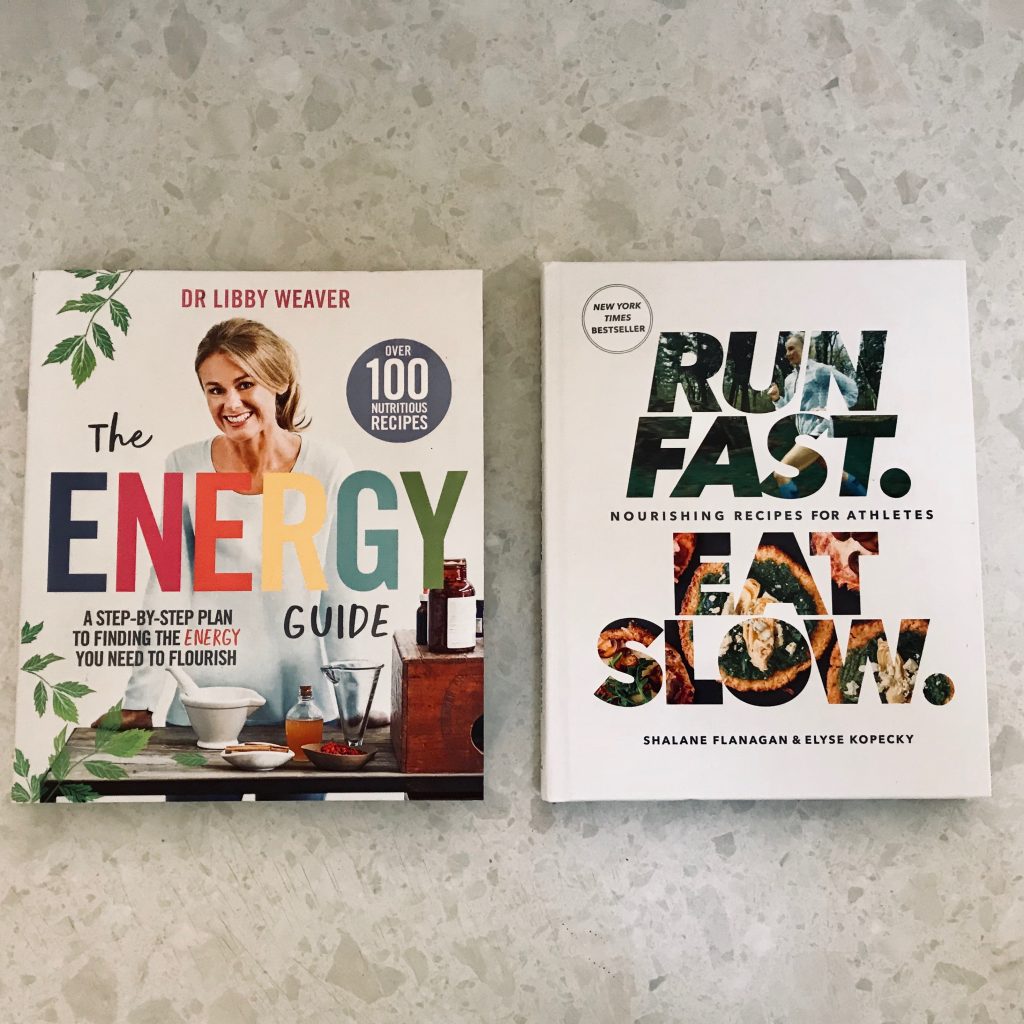 The Energy Guide – Dr Libby Weaver.
I've been a fan of Libby Weaver since my wife saw her talk a few years back and came home with her first cookbook. This one is a significant progression in my mind, both from a variety of recipes, easy of use and ease to cook and also from an ease to read and refer to perspective. The premise is that fresh, whole goods and largely plant sourced meals, snacks and beverages provide the optimal energy to sustain, refresh and revive our busy, stressful lives. The recipes are generally easy to prepare in less than 10 minutes, delicious and certainly have given me a boost in energy and overall wellbeing. My favourites include 'On the fly Fritatas', 'Vital Greens & Salmon Scramble' and 'Beetroot, Cacao & Chai Muffins'. All so good and great for grab-and-go goodness to get you through a busy day.
Run Fast, Eat Slow – Shalane Flanagan & Elyse Kopecky.
Co-Authored by an Olympic Marathon runner and former Nike Marketing Manager turned whole foods chef, this book is aimed at sustaining athletes. And no, before you ask, I'm not a secret ultra-athlete, for me 5Ks is a long run. But what I have found is that these recipes, focused on sustained energy release, recovery provision after exercise (I do run that 5K distance a couple of times a week, and box one or twice a week as well) and overall healthy, energy providing nutrient dense cooking has given me much more energy and focus throughout the day. I particularly recommend the 'Superhero Muffins' for the early dash from the house to airport (they freeze and travel really well) and also the 'Can't Beat Me' Smoothy for a strong dose of beetroot based liquid breakfast in the car or morning tea in between meetings.
The congruence of these books is around predominantly plant-based, with frequent but smaller amounts of meats, cheeses and eggs than most diets (including mine) typically contain, freshly main and eaten or frozen, and almost all can be prepared either very quickly or in advance the day before an early start or weeks in advance if going in the freezer. This is especially two of Run Fast, Eat Slow, appreciating that the last thing you want to do as an endurance athlete like Shalane is spend time cooking when you come in from a long trail run.
I hope you can track them down and enjoy the goodness both books contain.
Be well, lead well!
All the best,
Tim